58% of SMEs are overconfident; they believe they are unlikely to be targeted by cybercriminals. However, on average, ransomware attacks can result in 16 days of system downtime every year. Cybersecurity Statistics 2023 with 100+ stats that prove why small businesses need it. Endpoint Security is a must-have for modern-day enterprises in London and it means much more than simply protecting your laptops. With the threat landscape becoming more complicated by the day, newly created, advanced malware types appear and target SMEs. North London-based TWC IT Solutions offers tailored, advanced endpoint security antivirus services to safeguard your critical business data.
300+ London businesses have trusted us so far.
Endpoint security antivirus services offered by TWC IT Solutions
Endpoint security is more than just a traditional antivirus. It is designed to defend a single endpoint and offer visibility to that endpoint only. In contrast, enterprise endpoint security software looks after the whole of your network and provides visibility through a single panel to all your devices.
Here is the list of Endpoint security antivirus services TWC offers:
Avast Business Antivirus Pro Plus:
The Avast antivirus family has been protecting over 400 million users and operates on Microsoft Windows, macOS, Android, iOS, and Linux. It is an ideal endpoint security protection due to its next-gen antivirus feature, as The Antivirus Pro Plus solution offers seven layers of deep protection.
It integrates different features like artificial intelligence, behaviour-based machine learning and cloud threat lab analysis to provide real-time protection against malware, ransomware and potential cyber hacks. Its patch management platform grants easy access, maintenance and updates to Windows and other third-party applications via a single panel. The remote control feature gives easy access to any device to open applications and files. It takes your business security to the next level through its ability to troubleshoot any occurring technical errors in real-time.
ESET PROTECT Cloud:
With its antivirus, anti-malware and internet security solutions, internet security provider ESET is trusted by over 110 million users worldwide. The Cloud-based console secures business data with components like advanced multilayered protection and real-time file server security. It provides comprehensive protection to your company's Cloud email and storage with a combination of spam filtering, anti-malware scanning and anti-phishing features.
Businesses can also achieve legal compliance via its complete harddrive encryption solution for system disks, partitions or even entire devices. As part of the ESET Dynamic Threat Defense suite, the Cloud Sandbox also guarantees proactive protection against zero-day threats by analysing suspicious files. SMEs can benefit from its easy-to-use management system.
Bitdefender:
Another top-class global leader of the cybersecurity sphere, offering best-in-class threat protection is Bitdefender. The GravityZone Business Security solution is built around integrated endpoint risk management to identify, assess, and remediate weaknesses effectively. Its network attack defence mechanism gives an advanced level of safeguarding network vulnerabilities.
It recognises and blocks threats like 'brute force' attacks, password stealers and network exploits, even before they enter the network. The built-in security intelligence cloud protects billions of network queries on a daily basis and detects viruses without slowing down connected users. Protect your confidential information and enhance business security with the Advanced Application Behaviour Monitoring tool and always stay one step ahead of emerging threats.
Cybereason:
Cybereason is a cybersecurity technology company with a global presence in UK, America, Japan and Israel, trusted by some of the world's top organisations, such as Motorola, Korean Air or SoftBank Group. The Cybereason Defense Platform includes endpoint prevention, detection, and response, all wrapped up in one lightweight agent with real-time SOC management. Either automatically or with a single click, it remediates processes, removes persistence, prevents execution and isolates targeted machines.
Cybereason is a  future-ready endpoint protection platform that stops sophisticated attacks with the combination of threat hunting, incident response, threat intelligence and Extended Detection and Response (XDR). It not only provides visibility and defence against known threats, but can also uncover unknown vulnerabilities, allowing you to stay ahead of the threat landscape.
Endpoint Security Antivirus Benefits
Endpoint Security Antivirus Benefits
No need for hardware: Compared to traditional antivirus platforms, advanced solutions are Cloud-based, therefore removing the need for physical, on-premise hardware.
Immediate technician support: One of the most significant benefits of a Managed LAN service is the 24/7/365 support of TWC's specialist IT team and field engineers, ready to immediately assist and resolve any potential network issues.
Centralised remote management: The centralised panel makes it possible to access files and applications, whilst also providing real-time threat detection.
Decreased stress, increased savings: Outsourcing the infrastructure of the LAN management to an IT provider can save your business a tremendous amount of money in the long run.
Privacy & identity protection: Multilayered endpoint protection antivirus software can detect and block threats before entering your business network, therefore protecting your data with its quarantine safety measures.
Focus solely on your business: As the monitoring activity and any potential troubleshooting is taken care of by TWC IT Solutions, increased productivity levels allow you to focus on the core of your business.
Business-grade support: With an endpoint security service, you also gain access to specialist knowledge through analysis of your network activity, monitored remotely by TWC's highly trained engineers. They are ready to assist you whenever you need help or face an attack.
Detailed, real-time troubleshooting report: As part of an SLA, you receive detailed reports about any issues that may occur to help you stay ahead of any challenges in the future.
Artificial intelligence against threats: Today's antivirus solutions integrate artificial intelligence and behaviour-based machine learning to be more prepared to detect newly emerging dangers as the threat landscape is becoming more advanced.
Tailored solutions: The scale of this solution entirely reflects your business needs as you get to decide the level of support to serve you best.
Performance levels secured: A company's other significant investment, excluding securing the safety of its database, is the team working for it. Advanced Endpoint Security ensures that your team's productivity levels stay up-to-date. More importantly, you can also avoid the reputational cost of a large-scale breach or the financial cost of compliance violations.
Minimal network downtime: By monitoring and identifying outages and responding to issues occurring immediately, you can reduce any business downtime.
Endpoint Security Antivirus Features
● Malware protection
● Patch management
● Cloud-based remote control
● Layered server protection
● Privacy & identity protection
● Full disk encryption
● Cloud sandbox
● Mail security
● Cloud app protection
● Advanced Application Behaviour Monitoring
● Two-way firewall with intrusion/detection
● Network attack defense
● Al and machine learning
● Threat intelligence
● Deep response
Endpoint Security Antivirus Pricing
When choosing an Endpoint Security Service, many factors need to be taken into account. A good start is to have a cybersecurity strategy. When assessing what solution would be the most ideal for protecting your endpoints, consideration must be given to the size of your network, the amount of data traffic, what devices are connected and your infrastructure preferences. 
Don't let your lifetime's work flush down the cyber plug hole. Implement a solution from TWC's Cloud-based, multilayered Endpoint Antivirus Software package to avoid dealing with any cyberattack and its consequences.
Our Endpoint Security Antivirus plans start from £3/month.
Endpoint security antivirus in London FAQ
What is an Endpoint Security Antivirus?
It is a type of software that can detect, prevent and eliminate malware on devices, including viruses, worms, bots and trojans, among others, on a multitude of endpoints. When it detects any threat, it can either block it and place it in quarantine, remove it or issue an alert notifying the user that malware has been found and action needs to be taken to resolve the issue. 
TWC IT Solutions is providing a free Cybersecurity Business Training program, which offers businesses the opportunity to acquire the necessary knowledge to safeguard against cyber threats. By registering for the program, businesses can gain access to valuable cybersecurity insights and learn key actions required to prevent and mitigate cyber attacks.
How does an Endpoint Security Antivirus work?
Endpoint Antivirus Solutions have a database of virus signatures and definitions. The software scans files and directories to find malware, identifying patterns that match their existing set of signatures and descriptions. It's only able to recognise known threats, and it's essential for antivirus vendors to constantly be on the lookout for new viruses and update their database.
What is the difference between Endpoint Security and Antivirus?
Endpoint security is designed to protect a whole network and is deployed and managed by an IT provider through a centralised portal. However, an endpoint antivirus is more ideal for safeguarding an individual device like a mobile, tablet or laptop.
Why is a Managed Endpoint Security Service efficient for my business needs?
Which Endpoint Security Solution is best for an SME in London?
In light of the rise of remote working, one of the most important factors to consider when choosing an Endpoint Security Solution is the centralised control panel to monitor and manage threats. The advanced threat detection system of any Endpoint platform should also be considered, as new malware is developed every day, with cybercriminals targeting businesses with more advanced hacks. 
Unfortunately, it's impossible to define the ideal endpoint security solution for an SME since every business and vertical sector has its own unique needs and characteristics, resulting in differing security needs. This is why TWC will first audit your business and make custom recommendations.
What are TWC's Cybersecurity services?
Does TWC offer 24/7 support in London in case something goes wrong?
Absolutely. TWC is one of the few companies with  'follow-the-sun' locations in the UK, Asia and the Americas, which makes us able to support our client base 24/7/365.
My business is not London based. Can TWC still offer me a reliable Endpoint protection service?
Of course. As an Endpoint protection service is installed and managed remotely through a centralised portal by IT professionals, your business doesn't have to be London-based. We operate across three different countries – North London in the UK, Jersey City in the USA and Central, Hong Kong – globally across three different time zones, so should you need any assistance, we are here for you.
I'm interested in receiving a quote from TWC. What are the next steps?
Just hit the button below and ask for a quote based on your company's needs. We will get back to you within less than 48 hours.
MANAGED IT SUPPORT SERVICES FOR SCALING SMEs
Cybersecurity services offered by TWC IT Solutions
More Info
To offer top-tier security, TWC works with some of the world's most trusted and reliable cybersecurity vendors such as Avast, ESET, Bitdefender and Cybereason. Whether it's fully-automated, integrated trojan, endpoint or ransomware security, we've got IT covered.
More Info
To safeguard against the disruptions of online services caused by DDoS attacks (Distributed Denial of Service), TWC employs advanced monitoring tools to identify and detect threats entering a network. Our automated suite of security services such as a managed firewall, antivirus, network monitoring tools and other technologies mitigate attacks effortlessly on public-facing web services.
More Info
Here at TWC, we guarantee maximum efficiency with our list of leading managed firewall solutions including UniFi, Draytek, Fortinet, SonicWall, Palo Alto and Cisco, providing resilient and robust network security for your business at all times.
More Info
We conduct industry-leading audit services and audit programmes to identify cybersecurity vulnerabilities in any business, including Internal & External PEN Testing, ISO 27001 Implementation or GSX CoCo and CES & CES+. Our highly skilled team of engineers are also accredited with CHECK, CREST and TIGER security clearance.
More Info
Our mobile threat defence platforms are designed to secure and manage modern operating systems and corporate data by integrating context, identity and privacy enforcement, resulting in greater employee capability. MDM software also protects applications running on Android, iOS and Windows Phone.
More Info
TWC's range of in-depth cybersecurity solutions help your business be GDPR ready and compliant by covering Governance, Processes, Security, Data and Communication. We also complete Cloud migration projects to deliver true transparency to the ways your data is managed and held.
Read top Cybersecurity resources & guides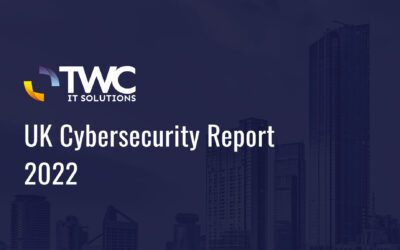 The UK Cybersecurity Report 2022 analyses the UK cyber landscape with a particular focus on the most hazardous​ cyber attacks that businesses encountered since 2006.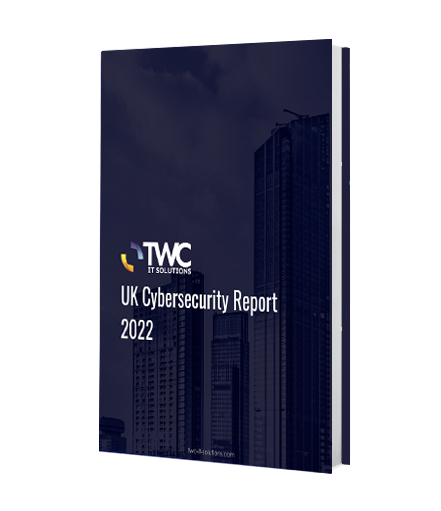 FREE EBOOK:
UK CYBERSECURITY
REPORT 2022
Key Insights from the analysis of the most significant cyber attacks in the UK between 2006-2022. A vital report for any UK company.
✅ The 200 most significant UK cyber attacks analysed
✅ Most affected industries
✅ Types of the most commonly exposed data
✅ 13 insightful charts included
✅ 16 factors per case processed
Footer Section
USA SUPPORT OFFICES:
Los Angeles
New Jersey
ASIA SUPPORT OFFICE:
Hong Kong, China
MIDDLE EAST SUPPORT OFFICE:
Dubai, UAE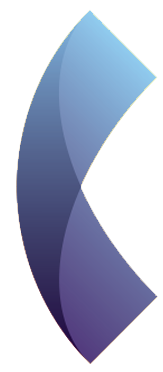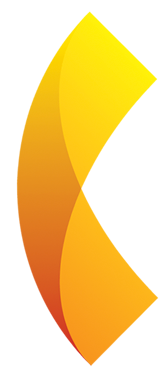 UK HEAD OFFICE:
32-34 Station Close
Potters Bar
London
EN6 1TL