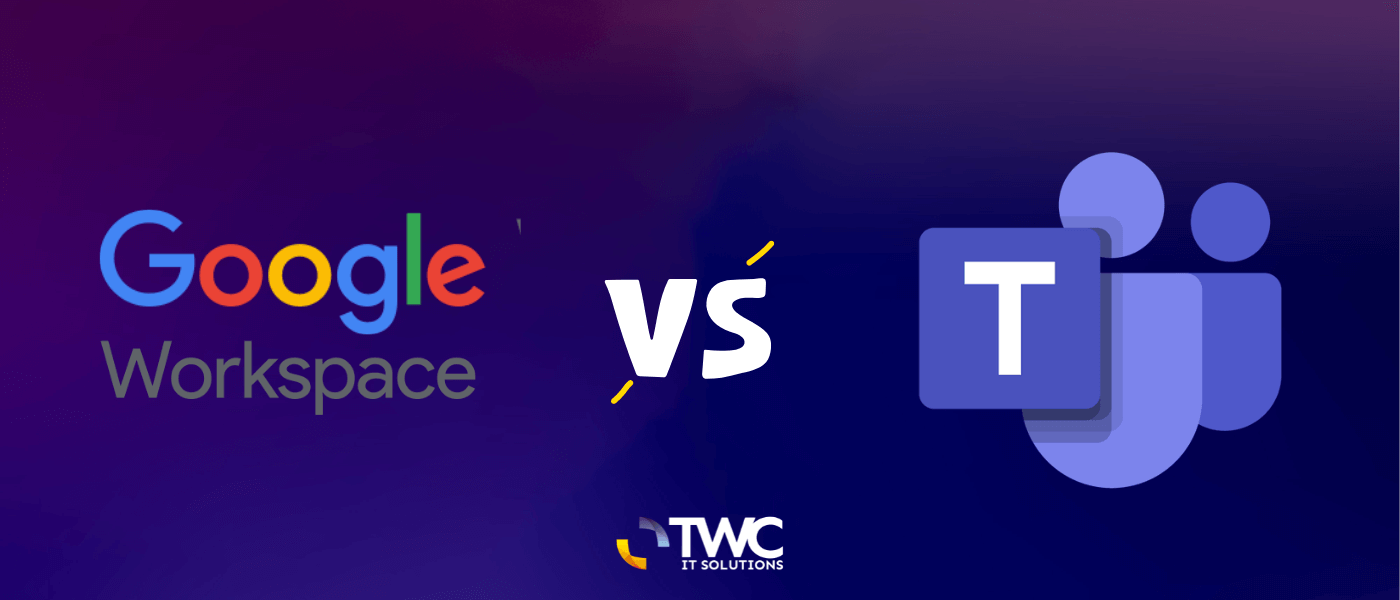 teams_vs_google_workspace_comparison_twc
Microsoft Teams vs Google Workspace Comparison: Which Solution is Better for a Small UK Business
In today's dynamic business landscape, choosing the most effective collaboration and productivity tools holds paramount importance for any UK small business. Among the top contenders in this arena are Microsoft Teams and Google Workspace (formerly known as G Suite), offering extensive features to streamline communication, foster collaboration, and drive enhanced productivity.
This blog post aims to provide an in-depth comparison between Microsoft Teams and Google Workspace, empowering UK small business owners to make an informed decision. By evaluating the strengths and weaknesses of each platform, we will determine which solution best suits the unique needs of UK small businesses. It is not an easy decision considering that Microsoft Teams is the preferred communications platform for more than a million businesses worldwide and Google Workspace is been used by over 6 million businesses. So, which solution is the right fit for your UK small business?
Comparison Criterion 1: Pricing and Plans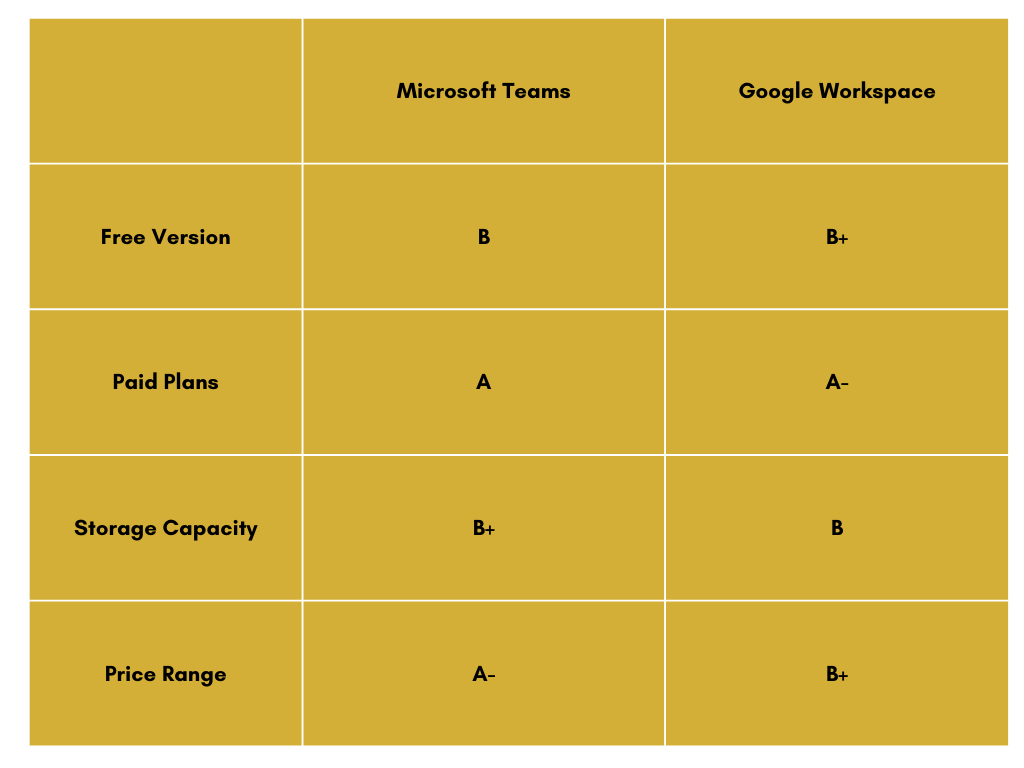 Microsoft Teams understands that businesses come in all shapes and sizes, each with unique requirements and budgetary constraints. To cater to this diversity, Microsoft Teams offers a flexible pricing structure comprising both free and paid plans. The free version of Microsoft Teams serves as an ideal starting point for small businesses in the UK. It provides essential features, including unlimited chat, audio and video calls, and 10 GB of file storage per team. These capabilities empower small businesses with limited resources to initiate collaboration without incurring additional expenses. For businesses seeking more advanced functionality and additional storage capacity, Microsoft offers a range of paid plans. The Business Basic, Business Standard, and Business Premium plans are designed to meet the evolving needs of growing organisations. These paid plans offer enhanced features, increased storage capacity, and administrative controls. By investing in a suitable paid plan, businesses can optimise their collaboration and productivity while maintaining control over their resources.
▶ Price Range: Microsoft Teams, included in Microsoft 365 subscription plans, offers pricing ranging from £4 to £5 per user per month for Microsoft 365 Business Basic, and up to £16 to £18 per user per month for Microsoft 365 Business Premium.
Just like Microsoft Teams, Google Workspace recognises the importance of cost-conscious solutions for small businesses in the UK. It provides a selection of pricing tiers, tailored to meet the needs of organisations with varying budgets. The Business Starter plan offered by Google Workspace serves as an entry-level option. It delivers essential communication and collaboration tools at an affordable price point. This plan is designed to help small businesses kickstart their productivity journey without straining their finances. As businesses grow and demand more advanced capabilities, Google Workspace offers the Business Standard and Business Plus plans. These plans come with expanded functionalities, such as enhanced security controls, advanced collaboration features, and increased cloud storage. By upgrading to these plans, UK small businesses can harness the power of Google's productivity tools while staying within their budgetary limits.
▶ Price Range: Google Workspace provides different pricing options, with Google Workspace Basic ranging from £4 to £5 per user per month and Google Workspace Business priced between £8 to £12 per user per month, while the Enterprise edition has pricing available upon request.
Affordable IT Support Solutions for Microsoft Teams Services in the UK
When it comes to pricing options, we understand the importance of budget-friendly solutions for businesses of all sizes. TWC IT Solutions can help you navigate the decision between Microsoft Teams and Google Workspace, both of which offer different plans tailored to meet your specific needs.
At TWC IT Solutions, we understand that choosing an IT support service provider for a small UK business can be a challenging decision. As one of the leading cybersecurity and IT companies in the UK, TWC IT Solutions has been recognised by reputable media outlets and platforms for its commitment to delivering top-tier IT support services and is being certified as a Premium Partner by industry tech giants such as Microsoft, Cisco, and Samsung Electronics.
Comparison Criterion 2: Collaboration and Communication Features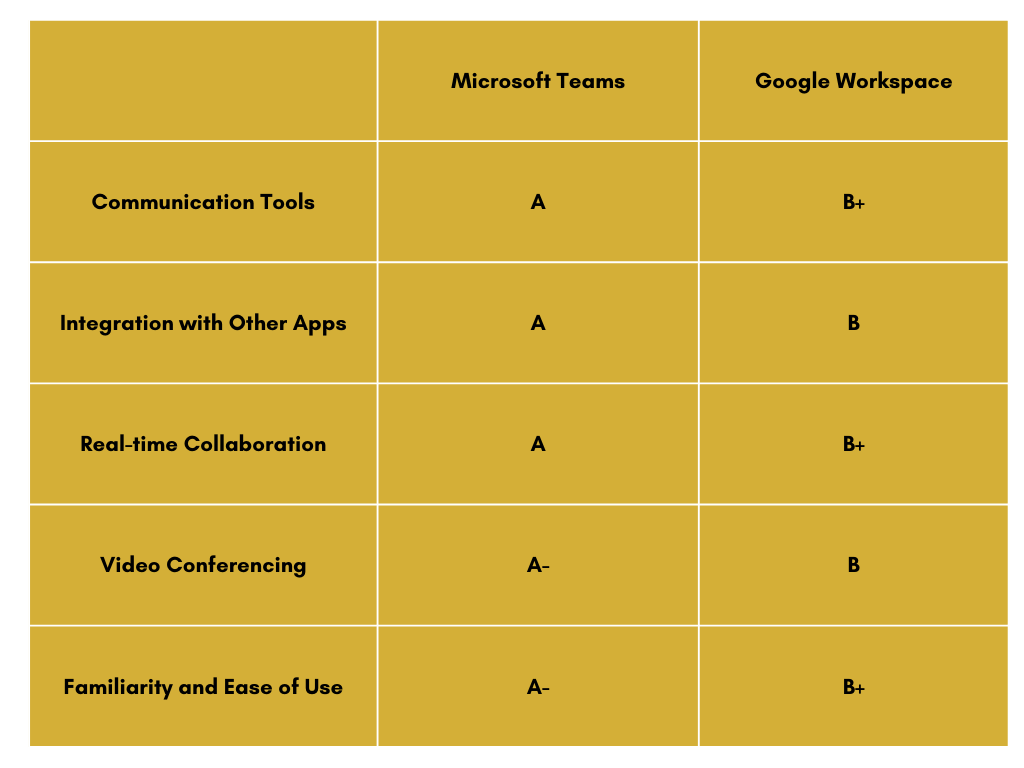 Microsoft Teams boasts a comprehensive array of collaboration and communication tools meticulously crafted to optimise teamwork and streamline organisational communication. This powerful platform encompasses a
wide range of features
, including channels, chat functionality, and video conferencing capabilities. By providing a centralised hub for real-time collaboration, Teams empowers teams to effortlessly share information, exchange ideas, and work harmoniously. Moreover, Teams seamlessly integrates with other Microsoft applications such as SharePoint and OneDrive, facilitating convenient file sharing and collaboration. Leveraging the Microsoft 365 ecosystem, Teams enables users to access an extensive array of apps and services within a unified interface, amplifying productivity. For UK small businesses striving to enhance their collaborative endeavors, Microsoft Teams stands as an exceptional choice, fostering efficient teamwork and communication.
Conversely, Google Workspace presents an impressive suite of collaboration solutions designed to streamline teamwork and augment employee communication. Leveraging tools like Google Drive, Docs, Sheets, and Slides, Google Workspace empowers teams to collaborate in real-time on documents, spreadsheets, and presentations. Multiple users can seamlessly work together on the same file, facilitating collaboration and fostering iterative processes. Additionally, features such as comments and suggested edits contribute to a seamless exchange of communication and feedback. To facilitate virtual face-to-face interactions, Google Workspace integrates Google Meet, a video conferencing tool that enables teams to connect remotely, nurturing effective communication and collaboration. With its user-friendly interface and the familiarity of the Google ecosystem, Google Workspace offers a convenient solution for UK small businesses aiming to streamline their collaboration efforts.
Comparison Criterion 3: Integration with Existing Tools and Ecosystem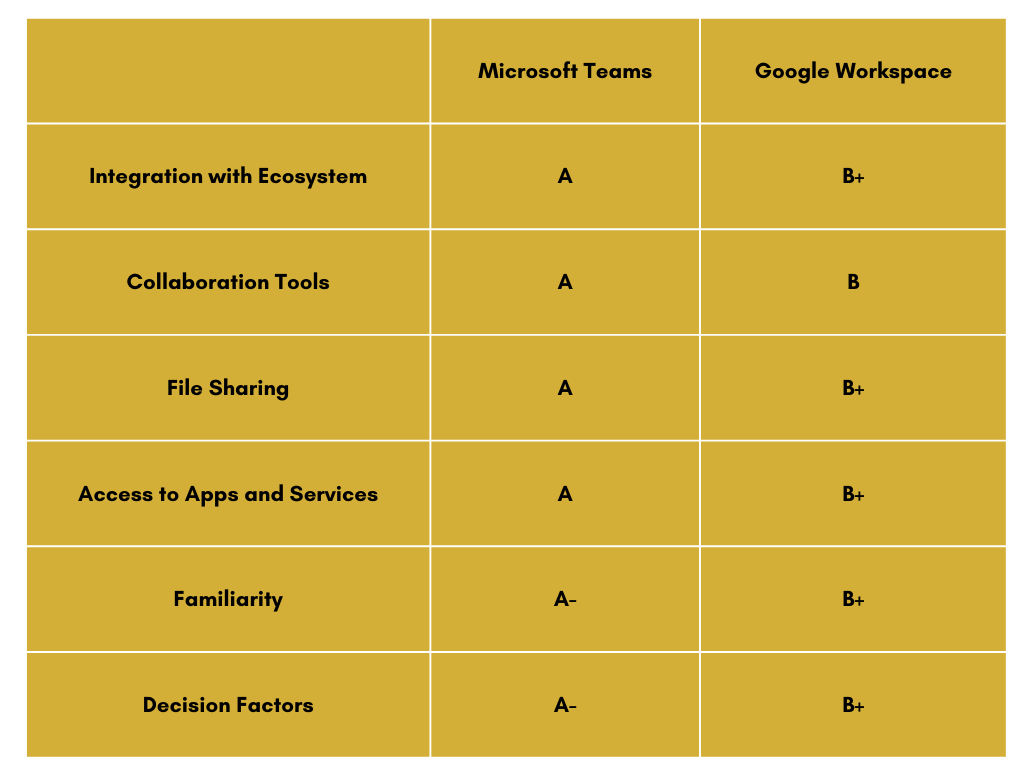 Microsoft Teams is renowned for its seamless integration within the Microsoft 365 ecosystem. As part of the Microsoft family, Teams effortlessly integrates with other popular applications like SharePoint and OneDrive, enabling smooth collaboration and file sharing. The ability to access a wide range of apps and services within a unified interface enhances productivity and promotes a cohesive workflow. This integration ensures that users can leverage their existing Microsoft tools and systems, maximising efficiency and familiarity.
On the other hand, Google Workspace offers its own interconnected ecosystem of tools and applications. With Google Drive at its core, Workspace allows teams to collaborate in real-time on documents, spreadsheets, and presentations. The integration with Google Meet facilitates seamless video conferencing, enabling teams to connect and communicate effectively. By leveraging the interconnectedness of Google's ecosystem, Workspace provides a unified experience that aligns with the workflows and preferences of users already familiar with Google's suite of tools.
Comparison Criterion 4: Security and Data Privacy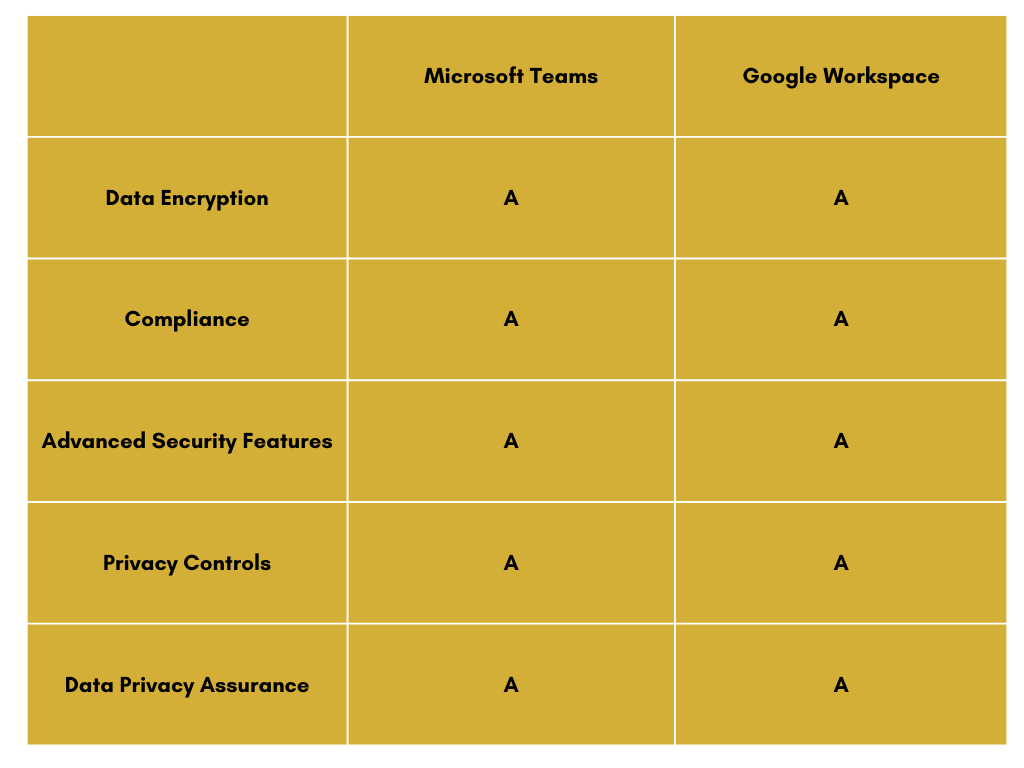 Microsoft Teams places a paramount emphasis on security and data privacy, ensuring the protection of sensitive information within the platform. By employing robust features such as data encryption in transit and at rest, Teams guarantees that data remains safeguarded throughout its entire lifecycle. Furthermore, Teams adheres to stringent industry standards and regulations, including GDPR and ISO 27001, underscoring its commitment to maintaining robust security practices and compliance. Advanced security functionalities, such as multi-factor authentication and data loss prevention, further fortify data protection and thwart unauthorised access. With Microsoft's resilient security infrastructure and unwavering dedication to data privacy, UK small businesses can confidently rely on Microsoft Teams as a trusted collaboration platform that prioritises the security of their information.
Conversely, Google Workspace shares an equal devotion to security by implementing a comprehensive array of measures to safeguard data and uphold privacy. By employing data encryption both in transit and at rest, Google Workspace provides a robust shield against unauthorised access to sensitive information. Google's infrastructure is meticulously designed to offer robust security controls, including multi-factor authentication and advanced threat detection, ensuring the protection of user data. Additionally, Google Workspace adheres to various security standards such as GDPR and ISO 27001, guaranteeing adherence to industry best practices. Recognising the significance of privacy, Google empowers administrators with granular control over data sharing and access permissions. With its steadfast focus on security, Google Workspace furnishes UK small businesses with a collaboration environment that instills confidence in robust security measures and meticulous data privacy protocols.
Comparison Criterion 5: User Experience and Interface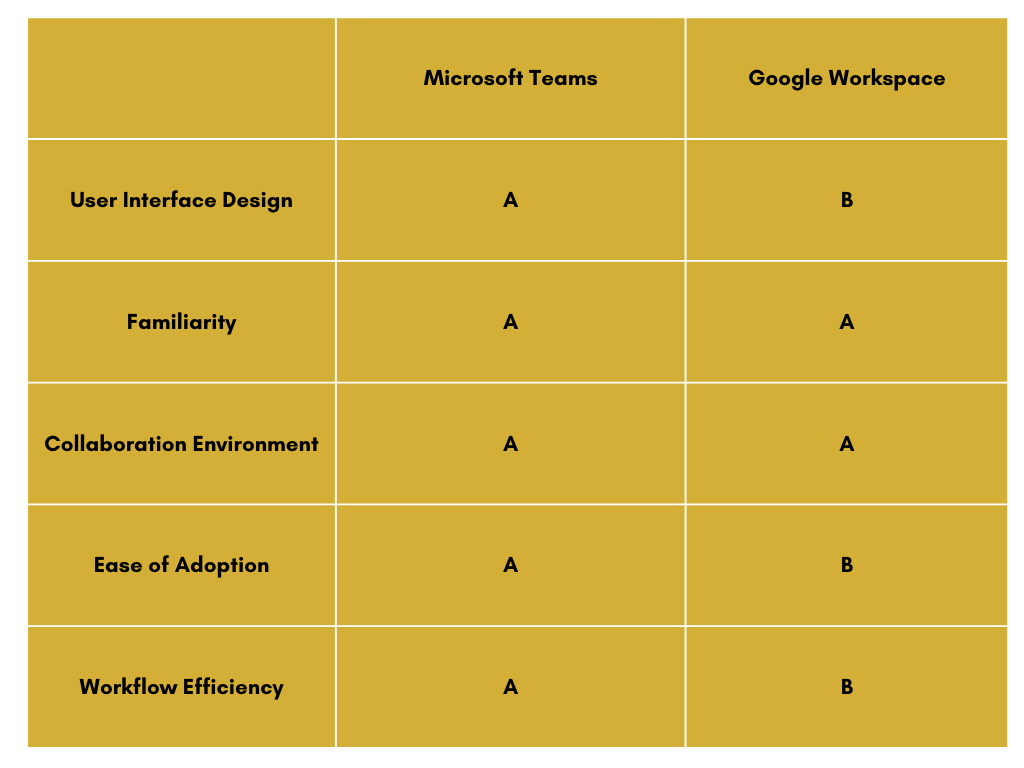 Microsoft Teams stands out with its intuitive user interface, prioritising simplicity, functionality, and seamless navigation to enhance the overall user experience. The platform adopts a familiar layout reminiscent of popular social media platforms, ensuring easy accessibility and efficient management of conversations, files, and collaborative tools without the need for extensive training. Channels, tabs, and sections are thoughtfully organised, enabling effortless navigation between different projects and teams. With a visually appealing and intuitive design, Microsoft Teams places a strong emphasis on user experience, fostering seamless collaboration and promoting efficient workflows within UK small businesses.
In contrast, Google Workspace offers a user experience centered around simplicity and ease of adoption. The platform's clean and minimalist design creates a clutter-free interface, allowing users to focus on their tasks and collaboration without unnecessary distractions. Google Workspace maintains a consistent design language across its suite of applications, facilitating smooth transitions between tools. The integration with popular Google services, including Gmail and Google Drive, further enhances the user experience by providing a unified environment for communication, document creation, and file management. Google Workspace's intuitive design and seamless integration make it an attractive choice for UK small businesses seeking a user-friendly and familiar collaboration platform.
Comparison Criterion 6: Customer Support and Reliability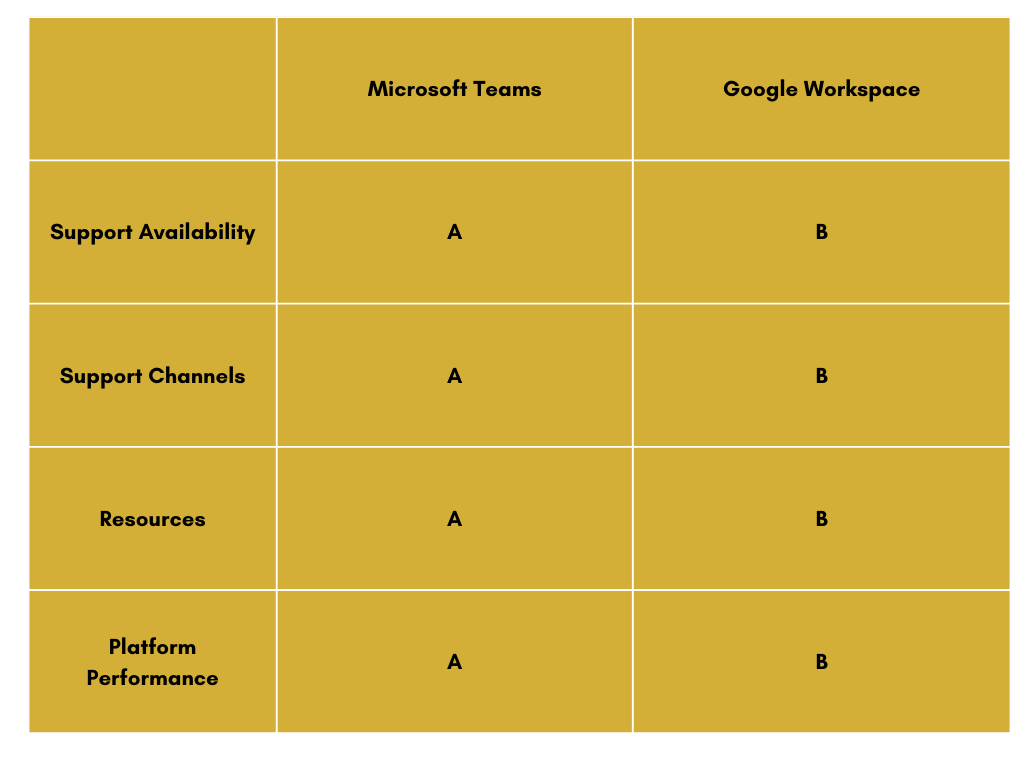 Both Microsoft Teams and Google Workspace prioritise providing reliable support and assistance to ensure a seamless user experience. Microsoft Teams offers a dedicated support team that is readily available to address any issues or concerns, promptly providing solutions and troubleshooting guidance. Additionally, Microsoft provides a comprehensive range of support resources, including a knowledge base, community forums, and detailed documentation, offering users in-depth information and best practices for maximising the
benefits of Microsoft Teams
. The platform undergoes regular updates and improvements, introducing new features and functionalities to continuously enhance the user experience.
In parallel, Google Workspace offers responsive help and consistent performance. Their support team is easily accessible, and users can seek assistance through various channels such as online chat, email, and phone support. Google's support resources, including the Help Center and user forums, serve as valuable repositories of information and troubleshooting guidance. Furthermore, Google Workspace's robust infrastructure ensures optimal service reliability, providing users with a dependable collaboration environment.
How TWC IT Solutions Excels in the IT Support of Microsoft Teams Services
When it comes to outsourcing your Microsoft Teams services, TWC IT Solutions stands out as the best option for several compelling reasons such as:
▶ Excellent NPS Score: 90
▶ 30-minute on-site bike response team
▶ Industry-Leading SLA, guaranteeing initial feedback within 10 minutes
▶ Warranty of Seamless Transition (WST) document
▶ Οver 300 clients from 400 cities across 23 countries
Comparison Criterion 7: Case Studies
Both Microsoft Teams and Google Workspace have demonstrated their effectiveness in improving communication and collaboration within organisations through the case studies below. Microsoft Teams has proven its value in companies like Marks & Spencer, NHS, and Arla, offering seamless coordination, real-time decision-making, and enhanced security measures. On the other hand, Google Workspace has been successfully adopted by The FA and Deliveroo, enabling efficient information sharing, streamlined workflows, and reliable virtual meetings. Both platforms provide a suite of tools that enhance productivity and facilitate remote work scenarios
Microsoft Teams Case Studies
▶ Marks & Spencer (M&S). Marks & Spencer (M&S) implemented Microsoft Teams to streamline communication and collaboration across their global workforce, enabling teams to efficiently coordinate projects, share files, and conduct virtual meetings. The platform's integration with other Microsoft applications like SharePoint and Outlook enhanced productivity, fostering seamless workflow and enabling real-time decision-making.
▶ NHS. The NHS utilised Microsoft Teams to revolutionise healthcare communication, enabling healthcare professionals to securely collaborate, share patient information, and coordinate care plans in real time. Teams' video conferencing capabilities facilitated virtual consultations, reducing the need for in-person appointments and improving accessibility to healthcare services for patients across the UK.

▶ Arla.Arla, a global dairy company, utilised Microsoft Teams to enhance collaboration and communication within their organisation. Teams served as a unified workspace, connecting geographically dispersed teams and enabling seamless information sharing. Integration with other Microsoft applications like SharePoint and OneDrive centralised documents and resources, promoting knowledge sharing. Teams' video conferencing capabilities facilitated virtual meetings and training sessions, ensuring effective communication during the COVID-19 pandemic and remote work scenarios. The platform's security features, including encryption and multi-factor authentication, provided a secure environment for sharing confidential information and maintaining data privacy.
Google Workspace Case Studies 
▶  FA. The FA (The Football Association) adopted Google Workspace to enhance communication and collaboration among their staff and stakeholders. The cloud-based platform facilitated seamless information sharing and real-time collaboration, enabling teams to work together efficiently across different departments and locations. Google Workspace's suite of tools, including Gmail, Google Drive, and Google Docs, streamlined workflow and improved productivity, allowing for efficient document creation, editing, and sharing. The FA utilised Google Meet for virtual meetings and video conferences, ensuring effective communication even when face-to-face interactions were not possible. The robust security features of Google Workspace ensured the protection of sensitive data and compliance with data privacy regulations, maintaining the integrity of The FA's operations.
▶ Deliveroo. Deliveroo, a leading food delivery platform, leveraged Google Workspace to optimise communication and collaboration within their organisation. Google Workspace's suite of tools, such as Gmail, Google Drive, and Google Calendar, enabled seamless information sharing, efficient file management, and streamlined scheduling. The platform's real-time collaboration features, including Google Docs and Google Sheets, allowed Deliveroo teams to work together simultaneously on documents and spreadsheets, enhancing productivity. Google Meet served as a reliable platform for virtual meetings, enabling teams to connect and communicate effectively, regardless of their physical location. Deliveroo also benefited from Google Workspace's robust security measures, ensuring the protection of customer data and maintaining trust in their platform.
Microsoft Teams vs Google Workspace Comparison: Making an Informed Decision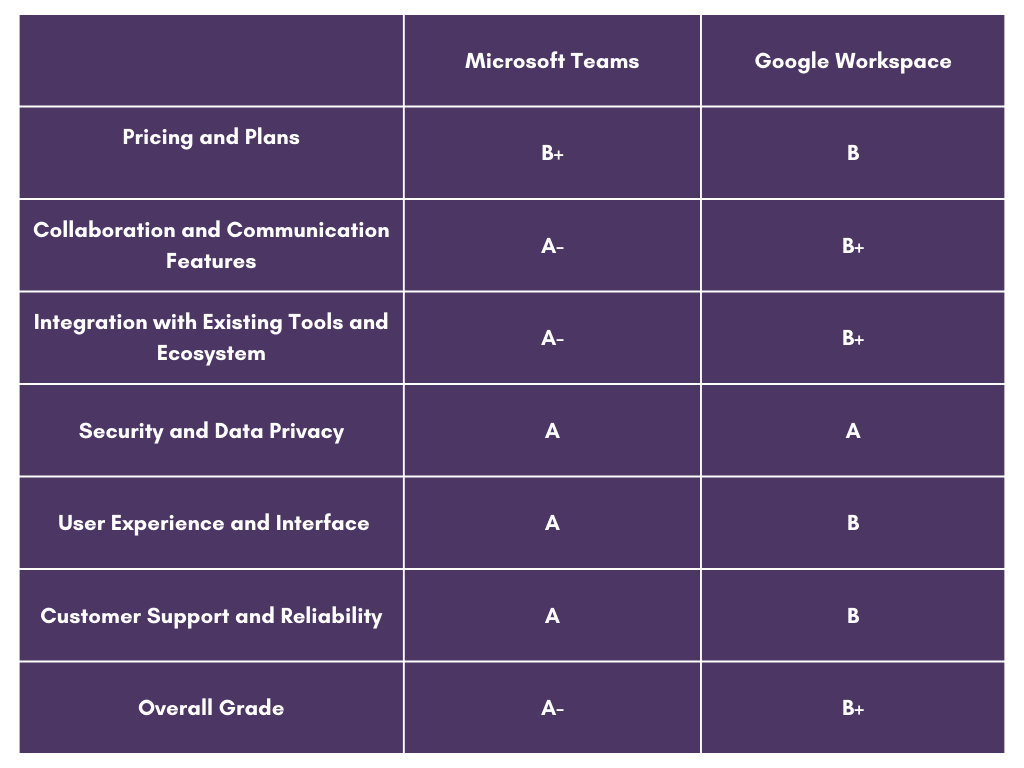 Why TWC IT Solutions Recommends Microsoft Teams for Small UK Businesses
When it comes to the Microsoft Teams vs Google Workspace comparison, Microsoft Teams stands out as the perfect choice for seamless collaboration. With its comprehensive set of tools, including real-time chat, video conferencing, and file sharing, Microsoft Teams empowers businesses to enhance productivity effortlessly. However, what truly sets Teams apart is its integration into the Microsoft 365 ecosystem, transforming it into the ultimate productivity hub. By accessing files, communicating via email, and managing calendars all from one centralised platform, Teams streamlines workflows like never before.
Growing businesses need a collaboration solution that can keep up. Microsoft Teams is built to scale with your needs. Its flexible pricing plans and user-friendly interface allow for easy customisation and adaptability, ensuring that it fits seamlessly into your evolving business requirements.
And when you choose Microsoft Teams, you're not alone. As your trusted managed IT Support Services provider, TWC IT Solutions is here to support you in every step of the way. From implementation to ongoing management, our expert team will ensure that you make the most of this powerful collaboration platform. Take the next step in enhancing your collaboration capabilities and get a quote for the managed Microsoft Teams services provided by TWC IT Solutions.
Curated with love by TWC IT Solutions.
Diablo Cody
"PUT YOUR BLOG OUT INTO THE WORLD AND HOPE THAT YOUR TALENT WILL SPEAK FOR ITSELF."
IT Awards and Distinctions.
Three distinctions in two years.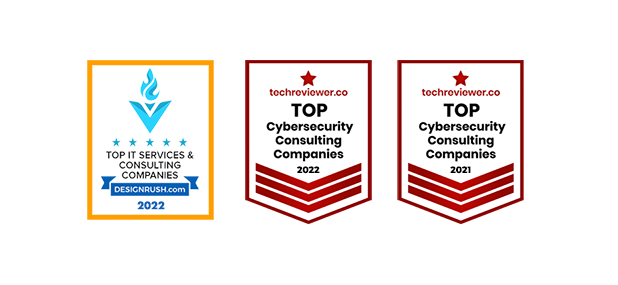 Footer Section
USA SUPPORT OFFICES:
Los Angeles
New Jersey
ASIA SUPPORT OFFICE:
Hong Kong, China
MIDDLE EAST SUPPORT OFFICE:
Dubai, UAE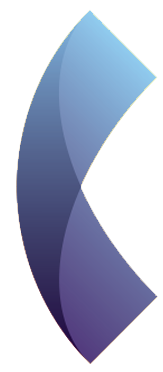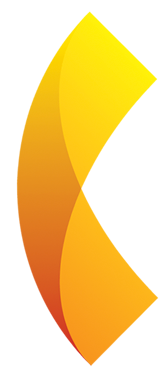 UK HEAD OFFICE:
32-34 Station Close
Potters Bar
London
EN6 1TL